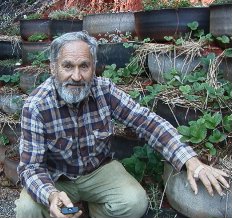 Free, free, free at last of car keys, payments, insurance, gas stations, titles, registrations, inspections, tires, oil changes, call backs, dead batteries, breakdowns, taxes, and worries of half of a century of owning a vehicle! I really feel free—at last I don't have a single key to keep tract of—I live in an ecovillage where houses don't have places for locks. We live our eloquent simple lifestyle that is of no interest to theives.
My transition to being car free was by owning one of the first Honda Insight hybrids to enter the country. Since transportation is the second highest expense for Americans, I have reduced my living overhead tremendously.
How do I get around? Being a non-consumer, walking satisfies most of my transportation needs, but when I need to go for an appointment, I rent my neighbor's old pickup for $15—once a month is often. He was able to put me on his insurance policy without an additional fee.
Since I invested my small retirement fund in a 500 square foot home built from the timber and clay of the site and use spring water, a composting toilet, and photovoltaic panels, my only bill is my $10 portion of the phone bill. Having a living roof enables me to grow much of my food.
Talk about a easy and stressfree life, I have the closest thing to it, especially since I sold my car and became carfree!
Here's a picture of Rod's homesite.
And a picture of some of Rod's hooved friends.
Other photos by Rod on this site.
---
Comments:
Click comment title to reply to that comment. (you must be logged in)
Carfree people at earthaven, by colin on 2004-10-10 03:41:42
Rod,
I'm curious to hear about how carfree people fare at Earthaven--Do you still have to deal with everyone else driving their cars around? Has there been any effort to make a carfree neighborhood or other carfree area at Earthaven?
Do you have any tips for carfree people who wish to visit?
How many of the full members of Earthaven are now carfree?
To have a comment deleted, email portal administrator.