This page no longer updated. Log continues here
new entries since:
for background visit hoboschool and the earlier log
2003-10-11 Saturday
Day: 34
Expenses to date: $355
Expenses this day: $1
Income to date: $20
I woke up and cooked white rice, sprouting lentils, and ate the last of that butter and fire ants from Holly Beach. And was on my way. My clothes were clean and my white shirt looked more khakhi than dirty, due to washing in the rainy weather. Oh! I forgot to note that after writing the last update, in the Navasota library, I'd been reading Dominico by william steig... It was a wild story with crocodile witches and catfish rising from the lake to give Dominico the dog a spear (on orders). It made me think of how animals are different for me... but for kids in kids stories, they have different dimensions. Also, Dominico was on a Journey, he put a sign on his door, saying "I´m off to seek adventure", and the Crocodile Bruja told him one path would lead to adventure and vigor and the other to boredom and despondence... He took the path of adventure, of course.
So where was I? The morning after leaving Navasota. Oh that last 63 miles took me through lake conroe, a growing suburb of houston. So I was back on the adventure cycling route, and...
Ah, yes, today was a special day. The roads were beautiful and sparsely trafficked, and the dogs watched silently as I passed. The countryside was a rich version of Jack Daniel's tenessee, with fancy gates around large ranches and the occasional old-looking brick or beautiful texas limestone(?) two-story house. The gas station in independence had seen two southern tier cyclists a day or so before, and was also a nice, old-looking building.
I'm making a note to get Cabeza De Vaca's excursiones (something like that). It is mentioned in David Alloway's desert survival skills as one of the greatest survival stories of all time.
In Gay Hill, across from the Historical Marker, I met Steve and Gail. I thought I wrote their names down! Steve was reading Blood Meridian by Cormack McCarthy on his front porch. We conversed a while across the road, between motorcycle and large truck drivebys and then he came over to talk. They are cyclists and did not know their (weekend) house was on the southern tier route! They work for an oil company in Houston doing geology work and drive an SUV :) but were in agreement about the evil cars and internal combustion engine. I got some unchlorinated spring water from their spring and they were planning to start a stopping point for southern tier cyclists under their car port. I told them about the Afton, VA cookie lady. Allison (not her name) took my picture and said she'd send it to me. So it may be here someday. Steve mentioned "dooley"... I wanted to know no more... It was good for me to talk about what I was up to with them and to hear their thoughts/ related experience.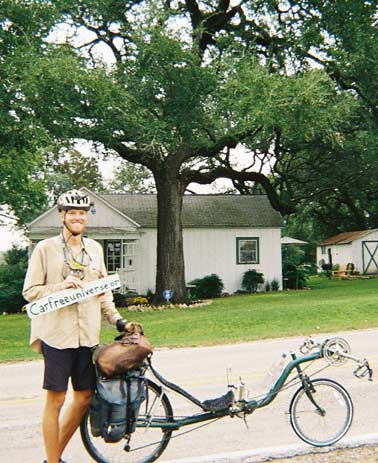 Eventually I said goodby and finally read that historical marker (why I'd stopped).
I made a note to always change my shirt at night... if I don't I'm more likely to get that horrible itching/sweat rash like symptom. I put my black shirt on at night and put the whitish shirt I bike in over that so that it is not next to my skin when I sleep. That seems to solve the problem and keep the bike shirt dry and mildew-free.
I noted that the grasshoppers were lined up along side the road and they roll like cannons out of the way as I approach, unless I'm too close, then they hop, or become roadkill. They're walking, but they appear to be rolling as their big legs don't seem to move. Nature observation is so limited when one is confined to a bicycle and the road.
I biked on... to Round Top, Texas, USA, where I passed something called the "festival institute." Whoa. That sounds cool (and the stonework I glimpsed through the fences and foliage looked fantastical as well). I turned around and biked up. There was a castle-like building under construction to the right, but that wasn't it. It was a big concert hall surrounded by fountains reeking of chlorine and other frilly things. I heard music coming from a big wall, the windows of which had all been bricked in.
I picked up a brochure for the place festivalhill.org , and pondered how I might get more music in my life again. I watched a woman enter the hall through a door I had not tried. So I did the same and got to listen to William Terwilliger on the Violin, rehearsing with a pianist and a clarinet player for a concert at 3pm in a beautiful concert hall with a purple stained-glass skylight. I was in heaven. The magic did wear (they were rehearsing, the violinist was awesome, but I wasn't as excited about the others. He was a fairly well-built looking guy who might have played football or been in a fraternity at one time), and ticketpeople came in as concert time was approaching, so I went outside to ponder some more. I don't know whether it was before or after this pondering, but I wrote my scales on the back of my notepad and started practicing my intervals as I cycled and when I stopped one day. I also sang quite a bit, tuning into "Colin's radio station," which never plays the same thing twice and always plays what interests me or it plays nothing. But, towards the end I realized I needed to do some vocal exercises to protect my voice. I haven't sung as much since, but I often used to sing on my long bike rides back on the bike trail from dance classes at Fort Ord in Monterey.
I biked on. But as I turned out of the driveway, I saw a pedestrian. I followed to investigate, finally asking why the hell she was walking. No one ever walks. Not even I, I ride this darn bike all the time. "Are you walking for exercise?" and she was, Beverly from Mississippi attending the Firstplace retreat on krause rd. for diabetes/ weightloss "educational/spiritual/mental/physical." She looked good, and rides bikes and does triathlons (I think). She reminded me of another Beverly I met walking on the Blueridge parkway.
I biked on. And, seeing something even more wild stopped to explore the back of festival hill, a part that I'd missed. Someone had gone crazy with stone and iron work, statues from that famous Prague bridge, grottoes and churches and patios. Wild.
I biked on, and stopped by the round top mercantile where one can buy green cheese and grape leaves. I bought some ripe bannanas for $0.20
I biked on, and into historic downtown round top. And saw a sign for the library. I went to the library which was in a restored church with a beautiful patio, across from a wild house in that same wild faux-italian renaissance style. I asked the Librarian what was up. She didn't wholly satisfy me, but Cat a woman of about my age explained one of the biggest antique shows in the US is held here every year, last weekend in fact. And that she and her mom had moved to the area because they are antique dealers...
Fortunately the library's founders had subscribed to various kayaking and paddling magazines, so I sat down to read them.
The ACA Paddler seems to be the best. A guy in annapolis commutes by canoe. in Sept 2001, a trucker crashed and dumped 38000 lbs of frozen chicken into the Ocoee river. Lewis and Clark went up the Missouri, down the columbia, and back. The May/June 2003 issue has the top 10 sea kayaking expeditions! paddlermagazine.com . There was a La costa del golfo expedition (recent) kayaking the gulf of mexico. Grand Isle to Isla Mujeres.
Cat was recommending readerbill.com to someone (this web address isn't working, I must have misheard). There was a special article on folks over 70 still paddling and also an issue on women paddling. http://hugeexperiences.com/ took a bunch of kids around and let them kayak... or is there more? http://www.open-canoe.de/ellice/ is about not using charter planes excessively in canoe expeditions. I should add that link to this site.
In one of the issues there was on p36 a debate about using wheels to portage canoes. Max Finklestein had this to say wheels are wrong : "canoe or kayak was an essential tool that enabled aboriginal civilizations to flourish in relative harmony with nature. But the way of the wheel requires permanent subjugation of nature. First cart tracks, then roads and superhighways, pollution, and ultimately sprouting shopping malls. Don't you paddle to get away from the crazy world of wheels, traffic, and cell phones?
Campkeewaydin.org was mentioned in an article on camps where they teach kids the old way of canoeing (no wheels). watergirlusa.com for some reason I also noted. (July August 2003 had the women's focus). tidal bore surfing is another car-free means of transportation I had overlooked.
On p36 of something was a "keeping bugs at bay" article. Here's the strategy: Thick wool shirts. Headnets. Foreign legion car, bandanna beneath, dosed in bug dope. Bug dope: citronella with castor oil or petroleum jelly:
1 oz spirits of camphor
.5 oz oil of cedar
1 oz citronella
Also use deet 100% and decant into two more bottles (equal amounts) and add vegetable oil and a few drops of wintergreen lavendar or rosemary oil. This you put on clothing (avoid using on skin). Light colored clothing is less attractive to bugs? loose layered, gloves.
for black flies, things you can tuck in... a hooded mesh jacket impregnated with repellant. 40 degree temperatures (F) and lower and 9mph (or 14?) and greater winds cut down on bugs.
Humans and other animals have gone out of their minds and even died from blood loss caused by insect bites. Fresh bark from spruce trees is supposed to something too...
And I think kat was mentioning Ilovetoread.org and she said "that's round top magic" about how people like it there and move there and make fancy buildings...
So, it was close to 7pm edt, and getting dark and the library was closing (a library of a very small town open on saturday? amazing) Ah, http://www.ilovetoread.org/ is their website and they even have sunday hours. It is wonderful.
I biked out of there, visualizing food, and then a perfect campsite. "yard eggs for sale" $0.75/doz manifested just outside of Rutersville. I bought one dozen. On the way back to my bike I realized there was a pecan tree right there! I filled a bag in just a few minutes. Further down the road, but not much I turned off the main route and found a low water crossing. I carried my bike downstream and found a nice place on the bank. I ended up setting up a tarp. For dinner I had pecans and eggs. Someone did see my fire, I'm almost sure, but they kept on driving and I had no trouble.
2003-10-12 Sunday
Day: 35
Expenses to date: $356
Expenses this day: $9
Income to date: $20
I could have sworn I heard a rocket launch in the middle of the night... but the nasa test site was back in mississippi. I cooked 6 more eggs for breakfast, skinnydipped in the stream and did my exercises. There were only a few mosquitos, and maybe a noseeum or two. It was a beautiful morning. The eggs didn't hold me though, and at La Grange at the HEB, I bought:
corn tortilla yellow, no preservatives (finally!!): $1.09
heb unsalted butter 1 lb: $1.99
dannon plain whole milk yoghurt: $2.19
oats: $1.90
tax: $0
I also called my grandparents to let them know I'd mailed something and what I was up to, and tried to reach jerome.
I did eat too much as usual. But worse was yet to come. I mean to work on this issue...
At 1136edt I passed rockyhillranch.com, a mountain bike place. At Buescher State Park, I had to pay a dollar to go through the park. But they donated a texas state map (mine was suffering from water exposure). At the entrance to that park I met Tom and Bill from cincinatti and michigan (or something like that), they started in El Paso and were heading to Florida! They told me about how they routed through San Antonio and how they ate. No cooking. Cooked chickens from supermarkets for example. They were both over 40 I believe.
I camped that night in the forest between Buescher and Bastrop state parks.
2003-10-13 Monday
Day: 36
Expenses to date: $365
Expenses this day: $11
Income to date: $20
I was woken by the UT forestry school (sort of) so I did not stick around in the forest.
I biked into Austin. Passing white Egret farm and lake walter elong. I met clint waiting for a bus. He is a manager for pedicab (bicycle cabs). Andrea Moon was a playwright in training I'd remet when I was in austin before (2000?). I went to the main coop in town after stopping by the UT art department where I'd worked as a temp when I'd lived there before. I went to the coop and got some food:
carrot: $0.17
cucumber: $0.73
oranges: $1.81
Cheese: $1.66
nonmember charge: $0.31
all was organic.
I tried to find linden phelps' number. I ended up calling Kimchi at earthaven and she helped me. He lives at the Rhizome Collective. And knows of the people at Entropy House. I left linden a message, and went to check out the bookstore. And there was linden! He filled me in on info if I wanted to stay in austin long-term, and I was thinking about it.
I gave austin the DOD survival manual I'd been wanting to not carry around any more. I'm down to cien anos de soledad, a spanish dictionary and phrasebook, and assorted maps and papers.
The bookstore had the book Bicycling in Mexico maybe I'll get it. I went back to the coop for dinner. And got:
oats: 1.75lb: $1.56
sea salt french coarse: 0.40 lb $0.40
brown cow whole milk yoghurt: $2.99
1 stick butter: $0.99 (their mistake)
Someone had left some old fruit (apples and tomatoes) by the dumpster. I sized them up and brought some along.
I biked over to Barton springs pool, a police-escorted film crew passed by on the way, and found a place to camp near by, early, and laid in the forest pondering things most of the afternoon. I made a list of things to get and do. I thought about the possibility of staying in Austin, and how the thought of renting a place (as linden had told me about), made me realize I did not want to do that. And how the being homeless forces me to "keep moving" in all ways. I must move to get water and food and shelter and other things... I do not have a house where I can keep these things and be confined to.
Avoiding ease of access to food...
One in our civilization can either seek challenge in special areas, or (2) make satisfying one's basic needs more challenging... I'm doing the latter.
Realizing the need to create a new mythology for this solitary nomad culture... base culture emphaisis is very group oriented. How the solitary nomads die, are born, live, and what is their glory, who are our heroes.
Closer to darkness I got up to explore. I found some other long-term campers in the forest, and asked "do you mind if I come closer," the silence to my too geeky query I took as a "no." (the three guys had been talking around their dome tent until then). I walked over to Barton Springs pool, leaving my bike safe in the woods and waited for evening free swim to open (8pm cdt). I swam for 30 min or so, and jogged back to my place in the forest and went to sleep.
2003-10-14 Tuesday
Day: 37
Expenses to date: $376
Expenses this day: $54
Income to date: $20
I rose early, packed up in the dark, and made it to Barton Springs Pool for the early morning free swim (costs $3 between 8am and 8pm). I was in heaven. A woman who swam beautifully did a good job of passing me by. She and an older woman too. Wonderful. Heaven.
I went over to a grill in the park afterward and cooked oats, apples, tomatoes, and maybe some other things. Very good. Reminded me of the oats I had with Jules back in asheville. Then I patched my biking shorts.
Then I went to the library, and emailed Dana (she'd emailed!) and Jan. I started updating this log, but got kicked off after an hour (time limits and demand for use, small towns are better).
I went to wheatsville for lunch, and bought:
.99lb buckwheat: $1.87
1.24 lb red lentils: $2.10
1.88 lb brown rice short grain: $ 1.86
cheese: $1.87
1 stick butter: $1.29
1 doz free range eggs: $1.89
some amount of ground chuck (organic): $2.85
non member surcharge: $0.96
Earlier, I'd gone looking for Andrew Grigsby, who I'd volunteered with / for on the sustainable city initiative with Lawrence Doxsey when I'd lived there before. He was not to be found, but I did get through to Owen Doxsey who suggested asking Marc richmond at austin energy dot com.
I spent some time reading that Bicycling in Mexico book and decided not to buy it.
I picked up a yellow bike project brochure.
I biked up to the auto infested mess that is north austin and bought from mapsco, a guia roji mexico road atlas per the recommendation of the people's guide...
I biked back down town passing by several bike stores to go to one I'd used when I'd lived there before. Bicyclesportshop.com
There brian sold me some spokes, and tubes, and even gave me a discount. He told me how one of the managers there had made himself homeless and kept only his car, and had gone off to learn natural building, and so on. He talked about staying in austin or leaving... and so on, It was good to talk with him... and how he'd found a sort of family at that bike shop and gotten acclimated to the summers.
3 spokes rear wheel std 259: $1.50
2 spokes front wheel std 186: $1
2 tubes 20": $6
2 tubes 26": $6
tax: $1.19
Ah... at the library, I'd read this:
an editorial by thomas krugman, suggesting that the US financial scenario is at present very similar to that in 3rd world countries that have undergone financial collapse... This in the NYT... its easy enough to find elsewhere.
I went back to my spot in the forest and ate (raw ground chuck!!) and slept, and spent a lot of time thinking about dana's email... she'd been inviting and wanted me to come down to Austin. But after my trip up north to trafficland, I was pretty sure I'd be leaving tomorrow.
2003-10-15 Wednesday
Day: 38
Expenses to date: $430
Expenses this day: $9
Income to date: $20
I rose not as early as before and went to swim. This time I decided to harvest crawfish. I asked a fellow swimmer if she thought it was O.k. "I'd cook them." So I got my mesh bag, and ignoring incipient hypothermia nabbed 12 of them or so using different techniques. That morning was heaven, and an embodiment of neoprimitive philosophy... my foodgathering was my exercise and my dance and my creative challenge.
Trying to get warm I drank down hot shower water, then went over to grill crawfish, oats and eggs (er, cook in boiling water over my hobostove on a grill). I ate the crawfish shells and all. They were nice, but I like boxturtle better.
Thinking of going to the library to work on this, I decided I wanted to head out of town right then. I went to Zilker Botanical Gardens to check out the butterfly garden I'd helped make when I was in the Master Gardner class there years before... I spent time trying to learn some plants from the books in the garden center, and found that the tree I'd camped under the night before getting sick in Louisiana was a Chinese Tallow... And that I'd passed a butternut tree on the road the night before.
I met chris, who works at the garden and who is active in the Yellow Bike Project, and we had a good talk, and he gave me a backroads route to Pedernales Falls State park.
Then I was off. I stopped at the bee caves HEB to buy:
more raw ground chuck... this time from b3r.com.. I try to make sure it wasn't irradiated: $2.72
brown cow whole milk yoghurt (good stuff): $2.82
1 lb butter: $1.87
oats: $1.79
I was HUNGRY. that cold swim this morning had really made me want to eat. I ate that ground chuck raw, and the yoghurt, and some oats, and biked on.
Eventually I passed someone and asked where I could get water. John Hoes offered his spigot, so I stopped by his place. He works for Texas DOT calibrating road construction instruments (something like that). He was friendly and cool and offered to let me stay on his land, but I wanted to check out the stream crossing ahead. The stream crossing wasn't looking inviting, but further on, I found some unfenced bushes, and crawled in and found a good spot. I cooked some oats and ate lots of butter that night.
2003-10-16 Thursday
Day: 39
Expenses to date: $439
Expenses this day: $6
Income to date: $20
I guess I ate more oats and butter that morning? I rose and made my way to 290 and then to 165, and then into Blanco to return to the Adventure Cycling route (thank g-d). Austin deserves some special note and some links on this site, but for now, from the Austin Cycling Association paper we have:
www.kenkifer.com/bikepages/ Ken was recently killed by a just out of jail DUI driver in a car crash when he was on his bike.
bicycleaustin.info michael bluejay's pages
publicdata.com (for looking up owners of license plates)
michaelbluejay.com ...
I should also note the tension between cyclists and cardrivers there, but later.
Beautiful biking that day. In sisterdale, I met lance and Brenda, who told me a bit about Acuna... brenda reminded me of someone I'd met long ago... my dad's friend Skip's onetime girlfriend.
Eventually, my front derailleur cable slipped... So I could not use the largest front chainring, no biggie.
Biking into Waring, TX, I was shocked to hear voices on the road ahead. It was the cross country team playing touch football for a break, halfway through a five mile run... That I was surprised to hear voices, is the point, but also their youth and vigor.
In comfort, TX, asking around I met Jerry in the Radioshack there. He fixed me up, recommended a place to eat, and he, Tom, and Ebie invited me to stay... I went to a mexican restaurant and had some tostadas, rice, beans, guacamole, etc, chips, salsa: $5.80 including a $1 tip.
I got to explore Comfort a bit more. I got to hang with some real country folk that night, who (one at least) drive duelies (big diesel trucks with four rear wheels), and have DUIs and no insurance or registration (one at least). Ebie and Tom live on one of those massive texas ranches with tons of dogs, cats, and so on... I got to reflect on how the country folks almost already have what the suburb refugee ecovillage seekers are trying to make happen (but not quite). I could write a ton more here, but, want to thank Jerry especially:
I washed my clothes (rather he did) in a washer, the first time since April 7.
I got to shave my head and trim my beard.
I was reminded of why I wanted to head into Mexico...
Ah, and we need to add a site for San antonio bikers: bikemojo.com per Jerry's recommendation.
2003-10-17 Friday
Day: 40
Expenses to date: $445
Expenses this day: $9
Income to date: $20
I rose the next morning after that bonfire and one beer, collected pecans, my laundry, cooked the last six eggs from the austin wheatsville coop, and was on my way. I Gave ebie a call to let her know I wouldn't be sticking around for the barbecue she'd invited me to... I wanted to go, for the food especially, but wanted to not stay in one place and to have more time to myself.
I found some prickly pears and ate them, using my leather gloves to remove the spines before eating... it worked better this time. Another tip is to burn them off (from the book in the Zilker Garden Center in austin).
In kerrville, I spent:
1.93 on a set of metric allen wrenches
.16 on tax
corn tortillas: $1.29
1lb florescent yellow tillamook sharp cheddar cheese: $3.29
daisy pure cultured cream (sour cream) too much: $1.88
Outside the library I ate way too much, considering, looking back that the servingsize for the sour cream is two tablespoons.... All the cream, most of the cheese, a lot of the tortillas.
route correction: crossing street not park street
The line for computers was too long.
I biked on, meeting another bike friendly person along the road offering hospitality: a firefighter, Kirk. He told me of a woman who'd biked that way (the other way) not long ago, and a bit about the road ahead. But I was anxious to be away from people...
Well the overeating was taking effect, and I guess blood sucked to my stomach to deal with it, left my joints and I got that old man, don't want to move feeling... but I kept on. Stopping to lay down occasionally, and spitting out what I could. I stopped at one beautiful swimming spot (there were many), it is a beautiful river, with some wild houses (toad halls) along it.
However, in much of texas, one feels like one is in a prison exercise yard due to 10 foot deer fences on either side of the road for miles and miles, or shorter barbed wire fences. I have seen some rather prehistoric large-humped collector cattle on the other side of some of those prison walls, but I vastly prefer tenessee hill country to the texas hill country prison. Every one who owns a ranch in Texas seems to be quite well to do, while the folks in TN are just trying to hold on, and don't fence absolutely everthing with as much fence as they can afford.
Eventually I found a beautiful camping spot where the road cut through a hill, and I could be on the top of the cut by a bush, outside of the barbed wire... I, achy, went to bed early that night.
2003-10-18 Saturday
Day: 41
Expenses to date: $454
Expenses this day: $7
Income to date: $20
I was really in the middle of nowhere (for a pavement-dependent cyclist) that night, almost zero traffic along that road (187) in Kerr county. Beautiful night skies, few bugs, and so on...
I rose, feeling much better. At a rest stop, I shelled and ate pecans (collected in Comfort) until a motorcyclist stopped, then did my exercises for the first time in a while.
In Vanderpol, I bought some bread from a bakery ($1.50) ... decent bread, but not the best, healthwise, but what I wanted/ needed, and a quart of orange juice (to help me from my sick feeling/lack of energy from the day before, though I am wary of the intense sugars, sometimes it feels right). ($1.89)
And, there's one receipt I'm not finding... I bought another quart of orange juice and some lonhorn cheese in camp wood, TX. ($4?)
orange juice: $1.89
cheese: $1.92
I camped along the west fork of the nueces river in a beautiful spot. I stopped to swim once that day. I cooked brown rice, red lentils, and added the cheese at the end, plus some lambs ear and dock I'd collected from around Comfort. and sea salt. It was good.
2003-10-19 Sunday
Day: 42
Expenses to date: $462
Expenses this day: $26
Income to date: $20
I rose, and ate what was left of my rice, lentils and cheese. As I´d eaten some in the night that wasn't much. The day before had been a lot of miles and a lot of hills. I spent a lot of time shelling and eating pecans and pondering whether to go into mexico that day at del rio, instead of going to Presidio. Sick of the US, I really wanted to. By 11edt I was on the road. Along 334 I met Hannah and Steven (on a burley recumbent steven was-- I may have his name wrong). They were doing the southern tier route to Florida from San Diego, and possibly continuting to DC where they would be moving. They were both young and attractive, my age or older I'd guess. I turned around to bike with them for a while...
In Brackettville, evil border patrol lackeys were on the prowl in shiny new SUVs... parked fleets of which I passed later on. I got water. 90 into del rio was a long stretch... but I was going to do it, I was going in. I stopped at the massive HEB for some nourishment and to make copies/ mail off some documents before I crossed the border.
copies: $0.81 (passport, credit cards, drivers license, ss card)
tortillas and cultured cream... (a small container this time... they had no whole milk yoghurt).. can't find the receipt... $3?
1 bannana: $0.12
sour cream: $ 1.58
tortilla: $0.99
stamp $0.34
Talking with Manuel an employee of the store outside, he was interested in the carfree ideas, and mentioned that a teacher at the del rio highschool said and lived the same thing... Mr. Manzanita (starts with an m at least), walks or bikes everywhere... he got a car so he can go hunting... But obviously this guy has influenced some people. Another guy walked by and said¨"why do you need a car? are you married? then you don't need a car". We should get in touch with that teacher...
Another spanish speaker outside was full of all the dire warnings you've all heard before about mexico... I told him if it was bad I'd turn around and come back.
So, I set off for mexico. Paid $0.25 to cross the bridge, passing a long long line of cars waiting to get into the US.
At inmigracion, I paid $21 for the 180 day tourist card.
I asked directions for an ATM, and got $1000 pesos. which since the tourist card was $205 pesos, I figured was close to $100 dollars.
Then I set off down rio bravo, which I'd located from the map outside inmigracion, and biked and biked.
The road (29 south) was better than the roads in texas, with much less or no shoulder, but only two lanes, and way less traffic, travelling slower with smaller vehicles.
I biked and biked. Stopping in San Carlos. Attempting to refill my water, a woman just gave me two bottles. I stopped some where before Zaragosa where I am right now. I lifted my bike over some barbed wire, and found a decent spot. And ate the rest of the cream and tortillas (eating had been well this day), and had some more of the pecans. I set my rice and lentils soaking for the morning. And pondered my maps.
Ah! out of San Carlos, I passed a man walking. I stopped to try to talk. He was going to San Louis Potosi and thereabouts (way far south!), and here he was walking on this endlessly straight two-lane road, with a sort of box on a string on his shoulder. He said "poquitas rides." or something like that. But then some guys pulled over offering to give us both rides. I deferred, and they gave me thumbs up, and I was happy to see the walker not walking!! How foolish am I? But it is something to see a lone man walking on a long straight road through a desert like (scrub brush only) area.
This was a bit of a watershed moment for me. I was in mexico, past the border town, on my recumbent, and still alive with the bike still working!! (not wrecked from potholes).
2003-10-20 Lunes
Day: 42
Expenses to date: $488 dollars
Expenses this day: $61 pesos, plus internet. probably $100 pesos (3pm to 8pm at $20 pesos/hora): $161 + $10 pesos for 1 gallon water: $171
Income to date: $20 dollars
I rose early, as sun was rising, and cooked my lentils and rice and seasalt. Packed and hit the long straight road to Zaragoza. I arrived, and some kids gathered round, and I worked on communicating. One, especially helpful (Miguel?) took me to the grocery store where I bought:
3 naranja: $2.81
0.720 Kilo a 3.90 Salchichoneria: $31.30 (this is a queso...)
1 lb or so white rice (no brown avail): $4.90
some amount of lenteja: (0.869K at 16.90) : $14.53
Abarrote Exento (tortillas... a sort of fancy kind): $7.00
One of the group also showed checked to see if the internet place was open. I ate some cheese and tortillas, and an orange and went to see if the internet place was open. It was closing for siesta (I assume) but would be open at 2pm. I thought I would bike on.
But as I was heading out of town, I passed a deserted ball-field with a wall all around and some shade (important). I stopped and ate eventually all the cheese and most tortillas. Then I did my exercises (first time in two days!).
Then I went back into town, and bought some water (with the help of another kid, but I'm getting better at this). $10 for one gallon.. that seems like a lot, but he's on the main drag.
Then I went to the internet place and have been here since. It is a sort of computer training center. I will probably sleep near the ballfield.
I'd better go.. and not spend more money or time here. But it is good to keep this current, not let it lag too much, and spend some time in retrospection, not just biking on.
so long!
2003-10-21 Martes
Day: 43
Expenses to date: $513 dollars, $71 pesos
Expenses this day: $110 pesos
Income to date: $20 dollars
A few notes: in Austin, I added $25 to my iscard calling card. The people in the internet place in Zaragosa decided to not have me pay for my time there. "Es un regalo." I, not so familiar with the gift economy, didn't react like I might have... First I was amazed to understand "es un regalo" which was what the woman who gave me the water the day before was saying. But today it made sense "it is a gift." I said, "porque?"... and she said, something like "porque." People here (en mexico) do like laughing at me. And the people at that computer center were having a great time while I was there... and also were checking out my bike.
I left there close to 9pm their time.. and went to the baseball field to sleep. Right past some police on the way. In the US they might have followed (I had a rear light, but not a front one), but not here (many people have no lights, and many people bike around at night). There was a mole or something running around in the ground below my head, but I did sleep alright that night.
The morning of the 21st, I biked into Morelos, not far to the south, and bought breakfast:
cheese 1 (a string cheese): $26.00
cheese 2 (a crumbly cheese, cheaper, but just as good): $14.00
carrot (decided I needed some more roughage): $1.30
2 tangerines: $1.40
2 banannas: $0.70
(the prices for the last three could be mixed up)
apparently, I also bought some tortillas (850g) for 7 pesos...
I thought of David Ceaser (a friend who lives in Xalpa, Veracruz part of the year) who got typhoid as I ate the carrot without washing. I had a slight headache since the morning before. It might have been due to sun in left eye as I headed south?
After Morelos, I headed to Nuevo Rosita. The riding on this road was a little hairy, as the road was narrow, and the traffic was frequent enough that there were some close passes and big trucks.
In Nuevo Rosita, there was a library, a park, with drinking fountains. I went into la Biblioteca. Most of their books were old. They did have a mexico travel periodical, and on the front page (Octubre 2002 numero 308 de Mexico desconocido) was "De Cancun a los Cabos En Bicicleta con su Perro" about two guys and one dog who were biking from cancun to los cabos (I don't know where that is). I didn't read it carefully. Instead I went to fill up my water bottles and to (try to) talk to the cute schoolgirls in uniforms outside.
I wasn't very successful, but getting a bit better. I biked out of there and headed to Melchor Muzquiz on some smaller roads. There were coal trucks, but generally it was a good ride. At Muzquiz, I was quite hungry, and bought:
crumbly cheese: $13.00
two oranges, another carrot? some peanuts japonais, and some other nuts, maybe some tortillas... the total was $48.95
There was such a crowd around my cycle on the way out, that I packed up and left, biking a ways before finding a shady spot on a mountainside to rest and eat. I ate all that cheese, I think. For whatever reason, overeating has been not as much of a problem in Mexico. Maybe because there's fewer things to buy that I want to eat. When I stopped there on that mountainside, I noticed that my seat bracket was cracking. I resolved to find a new one. It was and continues to be somewhat interesting how close one can be to a road and not be noticed by the people passing by.
In Minas de Barroteran, I asked for a Ferreteria. They didn't have what I asked for, but eventually walked me (since I didn't understand directions) to an auto part store, where on the owner's suggestion I eventually decided to use part of a piece used to hold a muffler in place ($20). I hacksawed off the part I needed, and saved it for installation when the piece currently in place finally broke. I was quite happy with that.
I found a place to sleep alongside the road not far from Barroteran. Not the most pleasant place to sleep, but I slept fine.
2003-10-22 Miercoles
Day: 44
Expenses to date: $513 dollars, $161 pesos
Expenses this day: $62 pesos
Income to date: $20 dollars
The next morning, I took a turn on to the free expressway number 57 to Monclovia. The riding was good, as now there were two lanes, and still not much traffic, so people (trucks) could pass easily. I turned off it onto a small road leading to Los Rodriguez, and eventually to San Buenaventura. In Rodriguez I tried asking for a market or something, but the guy I asked wasn't too friendly and there was another village just down the way, Villa Escobedo. There I bought more water (1 gallon), a cabbage (un repollo), 1 bananna, some tortillas, total $22. Sitting out front, filling my water, a man drove by and asked the usual questions, the stopped to get out a sweet (dulce) for me and his friend. It was good, with pecans, and some kinds of nuts on the inside. Escobedo was such a peaceful and quiet town. And while there were cars there were so few... I felt I could be happy living in a place like this. I passed decaying adobes. I think part of the quietness was that all the kids went to school in Rodriguez... or that day, at any rate, as there were nice schools here too... but sometimes kids like to laugh nastily at me, which I don't really like. On the way out of town, I passed a happy, fit looking guy on a mountain bike. I also passed a man with a horsecart who had been gathering some kind of grass. He looked happy also.
Earlier, I'd passed some people gathering the seed from the grass growing on the highway. They used a box with comb-like teeth, and waved it through the grass. From a distance they looked like they were performing incantations, or some sort of enchantment over the grass, the way they waved their arms.
There are animals grazing everywhere, goats, horses, donkeys, in the most remote locations. You might think you're alone, and then you hear a cowbell.
A little ways out of Escobedo, I stopped in a shady place to study spanish, my maps, and to rest. There were many flies, but they did not bite (many were like fruit flies, others were yellow striped, and a few were the standard housefly).
I got going again after a while, and headed into San Buenaventura. There were some kids riding bike cars. I searched around for a store. I spent $40:
$10 on two sticks of butter
$27 on cheese (the expensive kind... might not have if I'd known the price)
$3 on two banannas.
On the way out I went past a big walmart-like store (but on the main square, no huge parking lot) that would have been better, but it was getting dark, and dealing with a huge store was more than I wanted at the time.
Somewhere outside of san buenaventura I spent the night. I don't have a good recollection of that spot. Oh yes, I do, it was just out of town, through a decrepit gateway in some scrub brush. It was a good spot, and I started some lentils soaking to cook in the morning... or maybe I had some left over from earlier. I ate some of that butter that night... although, I wasn't sure if it was really butter or how old it was. The label was like so: grasa de crema de leche y/o butirica anhydra: 80%; Agua 16%; Solidos no grasos de Leche 4%...
2003-10-23 jueves
Day: 45
Expenses to date: $513 dollars, $223 pesos
Expenses this day: $86 pesos
Income to date: $20 dollars
I rose early and cooked white rice, lentils, and butter, and repollo (cabbage). Then I did my exercises. It was a good day. Then I biked toward cuatrocienegas. There were some neat towns and neat terrain on the way... I wanted some cabron and corn bread, but never stopped in time (and had already eaten).
Outside of Cuatrocienegas, I met Julio and his mom. Julio had studied french and english in Montreal, and sounded canadian. They told me about the warm water springs and the prehistoric fish that lived in them in this valley (information was also on signs nearby). I also met the rest station (descanso) attendant, who I think was Rodriguez. Oh, there had been an army checkpoint on the way into town. Not sure why.
In town, I spent $79:
bannanas (at least two)
oranges (three?)
crumbly cheese: $18
fermented (I thought) pork skin and vegetables $25
rasins
what else? A gallon of water. 4 huevos
I also bought a kilo of tortillas at another place $7
I didn't feel like touring anything historic or seeing dinasaur fish, I wanted to go to the desert where there were no people. So I headed out of town out a neat canyon toward Ocampo.
I stopped early in a quarry of volcanic rock at El Oso (the bear). I went in the quarry because of the shade there, and because the sparse traffic would not see me. I ate so much, and was tired, that I decided to spend the night there, and maybe read my book (cien anos de soledad).
Mostly I just gazed at my wild surroundings, watching the line between sun and shadow advance away from me up the wall of the quarry. Now this was a quarry of the spongy type of volcanic rock. I also stared at the crispness of the view around me and the blueness of the sky. I did hear a dog bark. Footsteps of someone walking down the road. A horseback rider. When it got dark and the stars were coming out, I climbed out to explore a bit, but decided to go back down, and as I did heard another horserider gallop by.
While there are many people here driving shiny new big SUVs and pickup trucks (not as many duelies as texas), many don't have cars... many of the cars are packed full of riders. Quite a few (5%?) had been converted to run on natural gas, even some old 4wd clunkers... took me a while to reconcile the fairly pleasant natural gas smell with my expectation of a reeking dark desiel cloud.
I was in the desert (and not next to a highway)... at last.
There were mosquitos, but a bat came out to eat them, and the mosquitoes seemed to know, and went away.
2003-10-24 viernes
Day: 46
Expenses to date: $513 dollars, $309 pesos
Expenses this day: $17 pesos
Income to date: $20 dollars
I rose and cooked lentils and eggs and some rice using brush that had blown into the quarry. I climbed around to explore more once I was packed up. And then climbed out and biked towards ocampo. In ocampo, I couldn't find the road I wanted, and eventually realized is wasn't paved. I bought some water and white rice (which I'm sick of.. the tortillas are white also...) ($10), and un medio kilo de tortillas ($7).
I began biking out the unpaved road despite warnings of ... well, an old man I asked said it wasn't paved for trescientas kilometres... but I didn't wholly understand him (I just looked up what I'd began to suspect now). 300 kilometres. But it was where I wanted to go. It was somewhat miserable looking back. And a bad sign since both my maps suggested it might be paved (one was especially clear). But it went through some amazing terrain and some beautiful places, and took to to places where it was hard to imagine that people lived.
Oh.. Earlier I'd found a soft-porn magazine in Espanol along the highway. I have yet to study it in much detail.
When ever my map fell out of its place from too much shaking I took a break, and ate some tortillas. Eventually I came to the edge of a massive plain (and had to get down to it). I needed to replace my break pads. There were tons of varieties of plants... too bad I did not know which to eat. I did eat some black colored berries that tasted sweet from one plant. It really looked like a sort of undersea scene, with some of the vegetation. I found a not empty bottle of orange soda and drank it. I passed a shrine on the way down to the plain. And in the plain I found a lagoon. There weren't street signs in the desert. there was a fair amount of traffic (more than I'd expect). I turned off the main road, which had speed ripples making it near unrideable. and headed to what I thought was Magueal. I stopped by the lagoon to walk to the waterside. And found mud and a swarm of mosquitos.
I resolved to bike away from the lagoon before sleeping. I biked in the glooming past a house (in the middle of nowhere), a woman, who'd been cooking over an outside stove went inside as I passed. There was a pickup truck outside. I later imagined she was in a witness protection program, or a woman alone, and didn't want to talk to (or look at) a guy on a strange bike.
Further on I found a place to sleep. I didn't eat, to save water.
It was a beautiful night, I woke up at times and saw how the stars had progressed across the sky. I watched the silhoettes of the mountains against orange and dusk and dawn... like you see on cliff bar wrappers, and boy scout council patches from the west.
2003-10-25 sabado
Day: 47
Expenses to date: $513 dollars, $326 pesos
Expenses this day: $48 pesos
Income to date: $20 dollars
In the morning, I replaced the break pads... it was a bit of a hassle, but not much. Of course I lost one of the cotter pins... (reminder: try to buy others). These are the kind of break shoes where the pads slip in and out, because I hate the hassle of adjusting the other kind.
In the night I realised the noise I'd heard wasn't a train, because it never stopped. I found it further on down the road. It was some sort of mining or fuel processing plant. There were even more roads leading in different directions at this place. I headed south and found a smooth wide road that had once been paved. I was optimistic. I saw the train passing ahead.
It got me to the railway, where there was a gate preventing passage (Propreidad Federal)... I decided to eat some, an Avacado and some pecans. and went past the gate to explore.
And decided to try heading back to cuatrocienegas along the railway. The road was horrible, but I made to what was left of Magueyal. There were some houses with smoke from fires. And goats. I told them "estoy perdido" (en el desierto), and asked if it was Magueyal. It was. And what was the quickest way to pavement? Cuatrocienegas. Down this way. And they opened a gate to let me through.
So I biked and biked down that miserable road. I thought I might be getting close, but then passed a sign suggesting I had 40 some more kilometers to go. I passed another gate that said "camino cerrado" (something like that). and crawled under. I passed deserted places that had once been railway stops. I did pass some ranches that appeared to be operational. There also appeared to be an effort to put a pipeline in place.
At one deserted railway stop, someone had made a house using railway rails for beams, and yucca stems and mud for walls, and an earth roof, in preference to the roofless concrete structures nearby.. But no one lived there now... leaving some old clothes and a worn out tire sandal.
Eventually I passed two guys who had something to do with the pipeline project. 27 kilometres they said, to Cuatrocienegas. I had been passed by one person. The mountains had strange cave-like holes. Annoyingly there were not one but two roads. So in addition to feeling that the other rut of the road was smoother than the rut on my side, I now had a whole other road to choose from.
Well, I was in the last valley... And I still had water left. Off in the distance were trucks carrying pipeline on the road I had not taken. They made huge clouds of dust. As there was now a headwind, and the sky had become cloudy, or grey, as if there were fires, that dust was headed my way, so I was happy to not be on their road. But it did go by what appeared to be a whole deserted village of adobes.
I came across a truck that did not work that was being rescued by another that did. We conversed a bit, and they asked If I wanted a ride, and I said yes, and helped them push the other truck into place so it could be towed into town. So I rode the last 10km or so back. There was another guy out there biking. He had turned around, and we passed him. Javier was the man I rode with, and I worked on my spanish a bit.
In town we talked a bit more. The guys from the other truck said I should go to monclova and not Torreon, and that they could give me a ride... But I didn't want to ride, it was getting dark, and I wanted more food.
I went to the same store I went to before. Bought cheese, tortillas, bananas, 3 oranges, two big (size less than a gallon) bottles of water. 4 huevos. And rode out of town after loading up amidst the small crowd that gathered. $48.
On the edge of town where it was dark, I stopped behind a bush. Oncoming traffic on the other side of the road might see me, but the traffic on my side probably wouldn't. I ate all my cheese, and eventually, deciding just to let my body do what it seemed to want to, all the tortillas... I did end up spitting some out, but so? And deepfun.com's concept of joyous overeating comes to mind.. the "yaqui way of overeating." I managed to sleep there on the side of that road. I did see some police flashing lights, but they were headed to the park across the way.
2003-10-26 domingo
Day: 48
Expenses to date: $513 dollars, $394 pesos
Expenses this day: $20 pesos
Income to date: $20 dollars
I rose early, and full of energy from not eating much and then eating a lot, left early before dawn at about 0730edt. I also left some shit and some banana peels in that place beside the road... not too happy about that. But that morning, that was what it was about, leaving, and heading down the road.
I had my rear flasher on. I stopped near a light to look at my map. The wind was still blowing strong, and towards Torreon. and I didn't want to go back. I headed down the empty highway, stopping for a while to rest and to defecate some more, and by that time it was more light. I passed the place where you can camp and swim near the dinasaur fishes, but it did not open for a while. I think Cuatrocienegas was at about milepost 108. or 100. I stopped after a while to take off the clothes I slept in. It was still chilly though. Because of the wind, the most comfortable place to be was on my bike, headed downwind, and there, it was silent, just sounds of rolling, and some amazement that my bike still rolled after what I'd put it through the past two days.
At about 180 there was a store. Before that store... everthing seemed downhill. and downwind, but there was a huge vast endless plain to cross. And the dust was blown up from the sorry attempts and growing things in the desert. I made it to this point at the edge of the plain, where there was an abandoned cafe and more of those yucca stem houses (seeming abandoned, but more recently). I found a not empty bottle of Big Cola, and drank it... it was easier to drink than my water... I remembered how one survival guide mentioned bringing tang or something to make you more likely to drink your water, or to mask iodine taste. Sometimes, big, nice Cohuilaenses busses would pass, and once the driver and a partner were up in front, next to that big glass window, in suits, reminding me of captain nemo and crew looking out of their submarine through that huge round window onto the undersea world.
Well, not much further was that store/restaurant in the middle of nowhere. There was a white-looking guy waiting for a ride. 140km to Torreon. I bought some goat cheese, and the guy gave me some tortillas (I asked for a media kilo, but they didn't have that). I ate a bite, and got on the road.
After a while, I passed a man walking.
This blew my mind. I did stop to slow and say "Como esta usted?", in case he might want water, and I believe that after a moment he said "fine." Fine?! But in that moment I was like those well-off mexicans in their huge new SUVs... going downwind and slightly downhill, and kept going. I looked back and saw him glancing my way also. He was still a good ways from the store, but he'd make it... but what had he been through till then? He had an empty plastic gallon container on his bag/pack that looked like a burlap sack. He had a sort of white beard and scraggly hair, but not long. And loose, hemp-like pants.
G-d but did he speak english?, And what the hell was he doing out here? and how had he gotten there, and where was he going? It was like some of the questions I hadn't asked the people I'd ridden with the day before... Why were they going to the rancho in their truck that broke? The told me there were no cars there... "no hay vida. there is no life".
So, I don't know. But I imagine, I knew a bit of how he was like. When alone for long, words come slow, and he might have said more, as I might have, if I was travelling slower, or even the same way, as well. Could someday I be like that guy... perhaps an expatriot american wandering the mexican desert.
I have no clue how he could survive out there.
I was lucky it was not sunny.
Eventually I came to the edge of the plain on which I passed that man. As the road went uphill a bit, I found a place to stop to eat and rest. There were now agaves I though, but maybe they were just the bottoms of the yuccas? There was a tarantula in the dry spot at the bottom of the rock I decided to sit near. I ate my cheese and tortillas, and some pecans. And after a while, checked to make sure my wheels still spun freely, and then I left.
It really wasn't much uphill.. it seemed like I'd been going down forever. But eventually I came to a vast plain, vaster than any I'd crossed before. At the edge was a settlement occupied only by a shrine and 3 dogs, and a carcass of an 80s era car, and an old shelter that possibly people would still live in.
The milepost was 226. There were mountains off in the distance but they looked like islands in a sea. In the still grey weather, there was no edge, no other side, and road was dead straight. Sigh.
I biked and biked. On either side was white cracked mud, and actually some milky colored water. I stopped to walk out on to the white plain of cracks, and even here, someone had barb-wired the land. I tasted a bit of the white.. it didn't really taste. As usual, I was feeding mosquitos.
And further along, I passed a rancher (?) and his buddy closing a gate onto that vast whitness, now dotted with scrub brush.
And further along, was another broken truck with children, being towed by a working truck, back the way I'd come (to where?) on the dirt road on the side of the paved road.
Since the wind was still with me, the mosquitos could follow along. One filled with blood, bumbled down on my shirt from my head, and I squashed it.
I don't know how that kid did a double century. Here with a perfect flat and wind at my back, I wouldn't be close.
I watched the few passing cars proceed into the distance, eventually disappearing into the curve of the earth.
Then I saw, it was a red and white sign. And, at about kilometer post 156 there was a cocacola sign. I passed a masked goatherd with radio(am/fm), and a man in a cowboy hat biking out. Perhaps his replacement. And the road turned. There were some telephone poles again. And pecan orchards, and houses. I stopped at a place offering fruitas and nuez... No fruitas, but then he said I could have some granada (pomegranites). I was out of the uninhabited desert.
Further along at a pemex station I met a woman, Grace, who spoke english, and we talked a bit, and she asked for my autograph... :) She was an english teacher driving to Monclova with an aspiring geography and history teacher.
I biked the 1k into San Pedro de las Colonias, and found a phone and called home and told them I was still alive (briefly because it costs 50cents /min). Then went looking for a place to buy water. I didn't feel like eating much as my stomach hadn't been feeling so good.
I came upon some rattling dancers and drummers, and then a 30ish well-dressed woman stopped the car she was riding in, and asked if she could take my picture. I said sure... and she sent a guy in the car to get the camera. She talked to me in english mostly. She had someone standing near by fill one of my waters. and Since there was a delay, I started to pump my rear tire that had a slow leak... I made the mistake of asking "como te llamas?" She did answer "Anabel" but later I looked up what I thought I should have said: "Como se llama usted?" Perhaps she was the mayor or something, and had come to watch the dancers. I made the point, as I had been making the point of making, that I didn't like cars and was looking for lugares sin carros... places with out cars. This does seem to make people think. And I tell people why I like mexico. Because many fewer people have cars than in the US. Outside businesses are racks and racks are bicycles, and there are horsecarts in most everytown, used by young and old, and the towns are made for walking, they are human scale, although there are cars.
I biked off and found my way south to some scrub brush, where I ate a pomegranite and pecans, put on all my clothes (it was still grey and cool), started some lentils soaking, and slept.
2003-10-27 lunes
Day: 49
Expenses to date: $513 dollars, $414 pesos
Expenses this day: $185 pesos
Income to date: $20 dollars
I rose, cooked some lentils, an onion that I'd found along the highway, white rice, 4 eggs (but lost one because my pot was a bit too full), the remnant of my repollo, and some french, coarse, sea salt. After eating I rested, and got ready to go. I biked north, back into town, in the cold, and asked where I might access internet (I`d seen a place the day before). It didn't open till 9, and the people here were off daylight savings time. I changed my clock. I took some time to change my front break pads. And then the cable broke. So I fixed that. And then the internet place was open. $10pesos un hora. and here I've been since 0930 CST. it is now 1700 CST (think). I added some links, and did a bit of programming work. And read some emails. And I'm about done. The sun has come out again. But it is still cool. I may head for the gulf coast, since I think I'll come back up the west coast. But who knows. I'm not going to die of hypthermia yet, though maybe in the rain. And I don't feel like going back to the US yet. But I think I'll try to stick to routes with plenty of places to buy food and water.
So long!
I think the total for internet there was $78. I met Eduardo Ruiz (lalo_manotas -at- hotmail.com) and we talked a bit of english and spanish about travelling mexico.
Then I went to the supermarket across the way, and bought:
granola (granvita) : $31
queso .595kg at 28.5/kg: 16.96
cacahuate japones: $7.5
platano: $2.48
cacahuate salado: $7.5
naranja: $2
Avena: $27
Agua galon: 12.42
total: $107
While asking for the cheese, I tried to ask for the cheapest (menos cara), and one of the deli woman went a bit hysterical... she went in the back and another helped. They were laughing back there a long time. I bought my food, and then went out to pack it up and go to camp, and all the checker boys, first one, then the rest came to ask for my autograph on bits of receipts. Eventually I tried to tell them there was a guy who biked from Alaska to tierra del fuego, but that wasn't me.
Then I biked back to where I was the night before, ate a bit too much and slept. The spot was a bit difficult to find in the dark.
That night I also thought about what I'd written, and made notes about the things I'd forgotten:
That my left inside ankle had been bothering me, but that it had stopped... And that my left hip that used to complain on long rides no longer did. That I fixed my seat on the way into Cuatrocienegas. That the total of the straightaway was 30km. More thoughts about the carfree war and that movie/book where people fight trucks with peashooters (moldanado something?). What is a Zona de Tolvaneras?
2003-10-28 mecredi
Day: 50
Expenses to date: $513 dollars, $599 pesos
Expenses this day: $10 pesos
Income to date: $20 dollars
Well, It froze that night. There was ice on my tarp. This was a bad thing. I survived, but this was the very thing I'd been travelling to avoid. I did cook some rice and lentils that morning, I believe, no, probably oats. Biking on down the road I had on most of the clothes I slept in. Eventually it started to warm up and I stopped to remove clothes. I ate a lot of that cheese. It was rather nasty, I shouldn't have asked for the cheapest. I ended up re-chewing it most of the day... I biked into Viesca. But found that the ways southwest from there were not paved. I biked back, and decided to forget heading to the gulf and to go west through Torreon.
It was a down day, because this meant that in Mexico, I had to stick to the main roads if I wanted to be sure of going anywhere. This means miserable biking. Trucks Trucks, cars and desiel fumes, and old car emission fumes, noise and danger.
I also thought about how if moving around makes you miserable, then stay in one place... But if the misery of biking on the road prevents me from going where I might want to...
It was a pretty down/up day emotionally... The flat boring desert. Having to turn around, and then the excitment of biking into the city and the enthusiasm of the people there. I stopped to buy a half of a watermelon in center of Torreon ($10). It was near the park, and some schoolgirls stopped to talk.
Biking into Torreon, there were some fascinating mexican housing projects/suburbs. I didn't spend a lot of time to explore them. They looked like rows and rows of small one-room houses right next to eachother with all their utility wires strung in webs above them. Often smaller than a typical americal garage. Made out of cement and plaster.
Heading out of torreon, I passed the museum de laguna... It would have been good to stop but it was late. Another guy camcorded me biking for quite a while. At the edge of town there was a castle on the top of some cliffs. There were also shacks with outhouses and donkey carts... all in the same city.
Torreon bills itself as "Perla de la Laguna." There is some very cool picturesque parts about it, where lots of small buildings nestle against white rock cliffs and boulders, but there is too much car, truck and bus traffic, trash and dust.
I ran into some people who had seen me in the San Juan. Another couple on a moped drove along for a while. On the way out of the last urban bit, what a appeared to be a dad with his kid on the handlebars was catching up to me on the hill. It was an older teenager and a younger brother (perhaps) who wanted to check out my bike. That kid was pretty cool and memorable. I found a place on a rocky outcrop on rte 40 toward Leon Guzman. It would have been very nice but for the huge amount of truck traffic on the road below and the fumes wafting my way.
2003-10-29 miércoles
Day: 51
Expenses to date: $513 dollars, $619 pesos
Expenses this day: $80 pesos
Income to date: $20 dollars
That night I remember thinking I would die on that road... But there were at least a few people biking to work on it. I ate soaked oats for breakfast, got going, and biked for a bit, and stopped in the town of León Guzmán for some food and to try to decide what to do. I spent $25 on water and .5 kilo of cheese. And the older man in front of that store was helpful in telling me how traffic was and how to catch a bus. I was thinking of going up to durango and over to Puerto Vallarta, and then back to the US to end the trip.
I went to buy some tortillas: media kilo and a bag of the fried ones. These I ate by a lamp post waiting for a bus. An energetic, friendly young woman gave me more suggestions (Estrella Blanca to Durango). I changed into my black shirt and pants. After eating the chips I felt like biking again. And I'd seen that the traffic wasn't that busy, and that people generally avoided running me over.
So I biked on.
It was a long ways. I stopped part way on to ditch some things I'd not used: a bottle of ink for my fountain pen. The cod liver oil bottle ( almost empty). I ate cheese and tortillas. And pondered whether to head south through the desert to Guadalajara instead. Though I knew it would be dead boring desert riding with cold mornings, I decided to go that way. Figuring I could make the pass above durango, but that I didn't want to end my trip just yet, and I wanted to go further south.
In Cuencamé, quite tired, I bought:
2 x 1.5 liter of water: $12
1.5 liter of mineral water: $12.5
some white bread--a roll: $1.6
naranja: $1.02
Toronja (celery?):$1.67
rasins(pasas): $2.7
sardines: $7.2
Zanahorias(carrot): 0.87
Apio?: 5.40
huevo rojo (4 brown eggs):$3.25
total: $48
I then biked on and on, over a hill, and then down, trying to make it to lower elevation. I found a spot in some thorny bushes and set about making a good dinner in the darkness. I cooked soaked lentils, eggs, some oats, and celery. I ate the raisins, grapefruit, oranges, first thing. I had some raw spots on my feet, but knew these usually dry up at night. The wood for the fire was hard to start, but made good coals-- of mesquite, I think, the thorny trees.
I put on all my clothes and got under my tarp and slept.
2003-10-30 jueves
Day: 52
Expenses to date: $513 dollars, $699 pesos
Expenses this day: $186 pesos
Income to date: $20 dollars
Early in the morning I had a bit of loose stool. I got up, cooked and ate some oats, and got on my way. I was pretty tired, but made it into Juan Aldama. There I used the restroom at a pemex and just sat at rested. I decided I didn't want any more food, and would press on to Rio Grande. The riding was pretty hot and miserable. The road from Cuencamé had a nice big shoulder, but big trucks, plenty of exhaust to breathe and noise to feel bodily. A guy with nebraska plates stopped to take my picture and say hi (he was mexican). I saw some mennonites (they look like white midwesterners and all are trim (not fat) and wear overalls). But I was dead tired, and the heat was killing me.
The only shady spot I saw in a long way was a bridge near the road and I stopped to eat there and to lay down. But I was right next to the road. I got chilled in the shade. I biked on, and decided to rest more often. But I really had nothing in me, energy wise. Something was wrong I saw some shade by a tree and stopped to lay there and rest a long time. But I was near the road. I got out my bivy sack and rested in it. I realized I had a fever and wasn't sweating or keeping warm (chill in shade, burn in sun). I decided I should get a hotel room away from the noise and fumes of the road as soon as I could. I eventually felt like moving on, and biked /coasted down the road. Stopping wherever there was a bit of shade to cool, when I had to climb a hill. Fortunately I had gotten close to Rio Grande and it was mostly downhill. I poured water on me to help cool me. I was not doing well. I was thinking I should probably beg for a ride. At a pemex in town I stopped for some water ($6). I sat in the shade. My legs were burning. It was a long time before I wanted to move. I managed to get further into town (lots of dust, fumes, traffic). At the first motel, I stopped and asked how much a room was, and could I see it. The guy did not like how dirty I was and my clothes, I could tell. He took me to see it. It was good, and $180. I took it, and went in there, Lowered the shade and laid on that bed and rested. Thankful that there was this place, this shelter from the sun. and road. My legs seemed to have a fever. It was a long time before they cooled down. I wasn't well, and wondered when I'd be better, and what my problem was. I think maybe it was the lentils that hadn't sprouted, or the water in the bottle I'd found by the roadside, or the dirt on the celery... or who knows what else.
I did have diarreah, but it wasn't so bad that I had to stay on the toilet, thankfully, I just had to get up occasionally to use it.
2003-10-31 viernes
Day: 53
Expenses to date: $513 dollars, $885 pesos
Expenses this day: $681 pesos
Income to date: $20 dollars, $400 pesos
Around 145am or so, I actually felt like looking around for more water, food. I found there was a bus station as a part of the motel, and I looked to see where I could go. A guy at the bigger bus station across the way let me have two tangerines of his (I was asking for fruit and trying to find juice without added sugar). I also bought a can of V8 Juice and some yogurt ($20), with some sugar in it. I wrote down the bus schedules and prices for Guadalajara-- 8hrs by bus away. I went back and ate and slept some more.
Around 430 I woke again, and felt I had enough energy to take a shower. But I found I had to ask the hotel guy to turn on a noisy machine to get hot water. The water warmed, but only got really warm long after I'd taken the shower. I slept until seven, and realized I didn't want to bike any more, and rushed to get the 730 bus. It didn't come, and I had two tortillas rolled with some huevos and frijoles and carne and frijoles at one of the bus stations ($15). I also spent $7 on a newspaper.
Eventually I went to the other station to wait for the 9am bus. There was an interesting mennonite about my age waiting for the bus to come to sell galetas (sugar cookies, he said) on board.
By 10 it came. I bought my ticket $315. Put my bike on the bus, and was on board. 8 hours to rest in a bus. I did think a bit about what it meant to have biked this far and now to be bussing. And how it showed I didn't have the patience to travel slow. But I wanted to go south and be out of the desert, to a place I could sleep outside in comfort-- it's not that simple though.
It was amazing how smoothly and easily the country side sailed by. The air was filtered and cool. There were movies to watch. I hardly ever see movies so this was an event. The first was Spy Kids. And I thought it was made in spanish, but it may have been masterfully redone so that it looked like they were speaking spanish (judging from the credits at the end). There was a lot of creativity in that movie.
The next movie was about a kid heading the wrong direction, whose dad finds he's dying of cancer, and loses his job, and decides to spend his last 4 months building his house with his problem 16 year old.
I was thinking of how I wouldn't recover unless I got good food. At one of the stops I was able to buy orange juice without sugar!! 2 glasses: ($16). I also bought two whole milk yogurts, there was nosugar in the lable, but I doubted it.. They were good to eat. and two oranges ($20 total).
I thought of the problem of mexico... It is easy to live without a car (many busses), but not set up for bourgeois bike travel, or even popular bike travel within cities (though many do it).
I thought of what I'd learned:
shelter needed for sun (desert), rain/cold (desert), mosquitos (swamp).
I thought of how my life could become a life lost for the lack of the right idea... how to deal in this environment full of cars and miserable fumes, and evilness... or of how to find a way I liked to be in a place without them. How to deal.
The movie about the problem kid and his dad was good... because I could relate to the kid a lot. There was nothing for him in this world. He appeared to become better by the end because his dad made him shape up (showed he cared), and others showed love (a girl), and he started working on the house and eventually took responsibility for it as his dad died.
I still haven't a good way of being content in this world.
The last movie was modern day gladiators I think. About a jet race. It was pretty stupid, but still I liked watching it. And a guy from San Lorenzo california visiting his family sat next to me so we talked for a bit.
A guy came on at one of the stops selling burritos. I bought a package of what turned out to be four. They were good ($20).
We made it to Guadalajara. I'd wanted them to let me out before then because the country had gotten beautiful and I wanted to camp, but the last stop before the final one was in an urban area.
At guadalajara, I put my bike & stuff together, paid $2 for the bathroom, and biked away, trying to head out of town/ find a place to camp/motel. It was good to see I felt like biking. Guadalajara is a very big city. The biking in the dark was a bit crazy, and I had a close call when a big bus almost merged on me.
I slowly made my way in the right direction. I went through the center where there are some pedestrian areas and horses and carriages and saw some other americans. I continued on and found a place to buy food: super G. It was 10p.m.
1.5 liter water: $5.28
1.5 liter other water: $6.5
watermelon half (sandia): $4.74
peanuts: $4.89
pint whole milk plain yoghurt: $19.00
.25 kilo asadero cheese: $13.98
total $55. I ate the watermelon, cheese, and some peanuts. I biked on. I came across some Texans leaving a restaurant. They were there for a cattle show of a kind of cow from france whose breed I'm not remembering. It was neat to see them, and one of the group gave me $200, and another did as well $200. I biked on. I was in a pricy part of town, but headed the right way. I stopped to look at my map and talked with some teenagers selling flowers on a corner. They were nice. Not long after that, I saw a motel that looked cheap enough. They had an 8hr rate for $215, I took it, and went there to sleep.
2003-11-01 sábado
Day: 54
Expenses to date: $513 dollars, $1316 pesos
Expenses this day: $90 pesos
Income to date: $20 dollars, $400 pesos
I woke and... had only a bit of time before my 8 hours was up (0716 or so). But I packed and was out. The hotel had a nice cement area for basketball and tennis, and I asked if I could work on my bike there, as one of my panniers had finally lost one of its hooks the previous night. It was o.k., and until 1100 I was there sewing up rips in my panniers and in my travel wallet and in my shirt, things I had long needed to do. I also did my complete exercises for the first time in a long time. I noted that I liked freedom from mosquitos, and traffic, and a flat spot (often concrete) to do my exercises. I also noticed how so much of my equipment was falling apart. After the busride, my compass no longer was functioning...
Guadalajara is really a miserable place to bicycle, and as I set off I was thankful that I was still alive. I stopped a bit down the road at a pharmacy to buy some zinc for my nose and lower lip. I had hoped they would adapt to intense sun, but they were not, and the skin on my nose bubbled, and the skin on my lips peeled. And, inspired by the troubled youth in the movie the day before (who had worn beautiful eye makeup before he reformed), halloween, and deciding that if the mexicans were going to laugh and whistle at me all the time I might as well give them something to laugh and whistle about, I painted my nose and lower lip white with the zinc ointment. This was not without problems (eating zinc, or rubbing it off when I itch my nose), but is better than before. ($20)
Further along I stopped at a Gigante (a mexican Wal-mart. by the way there are walmarts in mexico. I saw one in Zacatecas). I wanted meat, and they had a buffet like bar that I tried:
frijoles refrito: $10.94 (they seemed to have more flour than beans)
half a roasted chicken: $17.80
.234 kg Pollo Veracruzan: $16.12
Cacahuate chile: $8.66
total $54.
Then I ate that while watching some sales guys out front trying to sell dog toys and other junk, standing next to a giant balloon resembling a purina puppy chow bag. Then I set off further down the horrible road. I saw a kinkos like place and stopped to ask about business cards (tarjetas de presentation). I wanted these to give to people, like those school girls in torreon, or whoever I met. Even though this web site is in english.
That store could not print them but thought they knew of a place that might that was not far away. They did have blank ones however. I headed back down the horrible road the way I'd already come. There was an office depot, and I stopped there first. After waiting a while lounging in an executive leather chair, I found that it would take a week or something like that there. So I continued on to Plaza Del Sol, the place the other store had sent me.
It was a massive shopping mall. Eventually I found a place, but they could only do it by monday. They knew of another place that might, futher back down the road. But this had already taken so long, and I wanted to get out of the car infested city I decided to make my own from the blank cards the other store had... This was an example of how trying to be more civilized (nice cards) makes your life more difficult.
I eventually made it back to that first store, but they had closed. It was about 1400. I took that as an omen to split, and biked on down the road. My pannier mending job failed, and I had to stop to replace another lost hook with a tie-on arrangement.
After a long time I made it to a more rural area. But first I spent time wondering why it was I preferred to bike than take a bus out of that hell-hole. It is true there is so much more to experience on a bicycle, and that is why.
I also spent time composing in my head about how by default many mexican males are assholes to foreigners riding recumbents wearing shorts. They are always ready to make noise, whether a horn honk, or a pretty-girl whistle, or "gringo." Some, however, are clearly noises of enthusiasm and encouragement.
When I'm in a bad mood and annoyed at cars or whistling mexicans, I imagine that my recumbent is armed with sidewinder missiles, and that I simply blow the offender away. Yes I'm a long way from enlightenment...
As I was composing this, a man in one of those busses I'd been wondering why I wasn't riding reached out of the bus window (and the bus slowed down), and handed me a Modelo beer. And there are wonderful people here. So I rode up that hill out of Guadalajara next to trucks belching exhaust enjoying a cold Modelo beer. The passing Mexicans seemed to like me better with the beer... or maybe it was the beer.
I stopped at the top of a long downhill to try to make sure I was in the right place. The maps and road numbers weren´t corresponding. Eventually there was a sign for a toll road that I thought was the way I wanted to go. Previously I'd avoided the toll roads thinking bikes were not allowed, but I biked up, and no one seemed to think me out of the usual. The woman at the toll booth said "passelo" when I asked, "cuento cuesta una bici?" and that was it.
Jesus, if I'd known bikes could ride on these things my ride out of Torreon could have been so much better and not taken so many years off my life from desiel fumes inhaled, etc. The toll roads (Cuotas) generally have less traffic, a nice shoulder, and go through nice place. The drawback for a cyclist is that they often bypass small towns. But passing onto this road, it was a bit like instant heaven from the free highway out of Guadalajara. While it was free the water sold in the store by the tollbooths was twice normal cost: $15 for 1.5 litres, I paid.
So I biked, or rather coasted down that road a long ways. They don't mow the grass along the highway often and it is beautiful with different colors of red and a light color. But eventually I came to some long flat straightaways (more lagunas). There was a rest stop and I stopped to rest.
Rose Nubia came by and she took my picture with a digital camera. I like the pictures. This internet cafe didn't have photoshop so I found a way to crop them a bit using paint, imaging and powerpoint...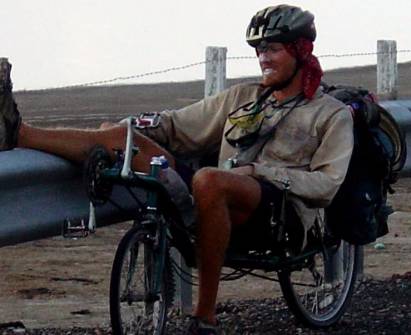 and a link to the original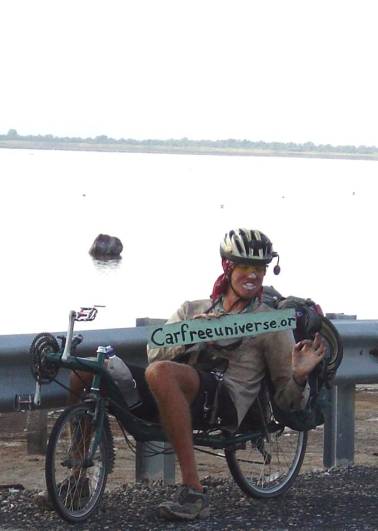 and a link to the original
From that link to the original you can find others of Rose's pictures of mexico. She also gave me a bit of her turkey on rye sandwich, which was wonderful since I felt like stopping but did not have much in the way of food and water.
I also had some peanuts left, and ate those. Eventually I continued on. Oh, there had been an ultralight flying by the mountains near the laguna. If she'd taken the pictures the other way, you'd see some nice mountains in the background. I liked watching the sandpiper-like birds walking in groups in the shallow water looking for food.
I pedaled on, but I really didn't have much in me. As it started to get dark, I made a point to try to find a place further from the highway than I had been before I got sick. I saw burros piled high with the rush-like grass that the country people harvest here. Eventually I was moved to take one of the dirt roads leading away from the autopista. This once had been a road, but now was a foot or burro path. It led to a more road like area, and I could see a house further along. There was a gate to field. I had to shit, and opened the gate and went to the field among the tall grass to do it. After some thought, I brought my bike through the gate and camped there as well. The grass was tall and the field was not used often.
I sighed as I prepared myself for 12 hours in the dark in a bivy sack avoiding my mosquito friends and with a possibility of a thunderstorm after two nights in hotels. But I entertain myself reasonably well. And I was happy there were clouds in the sky and trees on the ground. I imagined being like that guy Joseph Pilates and developing an exercise routine for people confined to bivy sacks in darkness for long periods of time. Eventually I would have a line of exercise bivys to sell... and so on.
It was good to be back in the country.
2003-11-02 domingo
Day: 55
Expenses to date: $513 dollars, $1406 pesos
Expenses this day: $187
Income to date: $20 dollars, $400 pesos
I woke, and any wish I might once have had of being in a hotel room went away with the beauty of the morning. As I shat amongst dew-laden, sun-glinting shoulder height, yellow-eyed susan flowers, and remembered that morning heading out of Cuatrocienegas, when I shat amonst the desert sagebrush in the glooming of a grey, early morning dust (or something) storm high in the sky, I reminded myself of how much I hated bathrooms.
I still did not feel chipper. But I felt like doing my exercises before facing the Autopista. And I did at least the fir the first part among the grasses and flowers, and a few mosquito friends.
On the autopista I headed down the straightaway. Eventually I found some Bimbo-brand graham-like crackers. I ate these even though they had sugar crystals on them, as I hadn't much food. After quite a while, and checking my map, I realized that if I had wanted to go down the free highway 80 (as I had wanted) I should have turned at the entrance to the cuota to somewhere instead of getting on the cuota. As it was I was 40km further than I thought I had been.
Dead tired, and facing a hill I came to a turnoff to a town. I saw a restaurant on the other side of the cuota, and heading toward the town, I couldn't see it, so I climbed the overpass to the otherside and went to the restaurant. I got 3 liters of water ($20), and some roast meat and frijoles with tortillas in a sauce ($30+3 tip). It was good. I wanted more food, but I could make it to the next town. I spoke a long time with the older woman who made tortillas. Or I mostly listned as she liked to talk a bit too much. But I took it as my Spanish comprehension lesson of the day. And I learned a few new words.
Driven out of there by the talkative abuela, I got on my bike feeling much better than when i had stopped. I made it up the hill, and up a few others, before a long coast into the valley near Cuidad Guzman.
There, quite tired again, and hungry I headed into town. The main road into down was quite car-infested. There were orange trees lining the center of that road and I tried some. Too bitter to enjoy, really.
Biking on I passed a gringo-looking guy in a pickup truck who said something like "hey what's up?" with a continental/european/british-like accent, eating cocoanut and chile sauce. We talked a bit, and he offered to take me to a big grocery in his truck. I accepted, and we drove and talked a bit. It was another Gigante. We exchanged emails/ and I gave him my web site, and we might see eachother around. It was nice to talk with him! He's Jous, jouslaguna a t hotmail.com or is it jous_laguna? While standing there, and I was complaining about mexicans whistling, while also talking about how many are good, some guy drove by and asked where I'm from. Then he asked what I'm doing here, and I, hating the question, said "spying on mexicans!" He said "have a good trip." Jesus.
I really wanted another bean burrito like I'd had on that busride and like my mom used to make... But there was a store selling sugarless yoghurt and granola, and other "healthy" things. The yoghurt wasn't of whole milk, but the granola, evil though it is looked too good ($18). I biked around a bit, looking for my burrito, but the places really only sell tacos... and the town was car infested. I decided to go back to the Gigante, knowing I could buy a can of beans and flour tortillas (yech) there, among other things. I bought:
watermelon half: $14.89
3 liters of water (with minerals, no more of that reverse osmosis stuff!): 14.5
my can of beans with lard!! : $13.75
banana: $1.18
lentils: $6.9
sardines in tomato sauce: $8.45
two bags oats: $10.10
wonderbread whole wheat tortillas (as a bit of a joke): $6.9
garlic powder: $11.95
2 orange: $1.97
1kilo strawberry yoghurt whole milk, but with sugar: $12.5
1kilo nut yoghurt whole milk, but with sugar: $12.5
total: $116. It was good to have an appetite back. As I was walking to where my bike was parked, jous showed up! He'd found me by the bike. We moved away from the gas station and talked a bit while I ate watermelon. Then it started to rain a bit. He had to go pick up his friends who were in town with teaching-abroad.co.uk . One was french, another German, and another californian. I did want to meet them, and planned to stop by the bus stop.
Trying to stay out of the rain, I ate some beans and tortillas (the tortillas were nasty unless eaten with beans), and then some of the strawberry yoghurt, and all the granola. There was way too much sugar in the yogurt...
Eventually the rain slowed but there were huge puddles and cars would soak a lowrider recumbent rider. I started trying to make my way to the bus stop. It was about 6 by the time I found my way there (hard because of the car ride). And getting dark. Jous had told me of a cheap hotel near the center, but I didn't want to be inside. I headed out to the cuota to look for a place.. Thinking it a bit ironic that I would head there, but that is the place I know and it goes by the country.
Not long on the cuota, I passed over a bridge, and had to shit, I stopped and noticing the relative silence by the bridge, decided to stop there. Generally I avoided bridges. I slept near it but not under it, even though it was still raining a bit.
I did end up spitting up most of that strawberry yoghurt, and the next morning after trying the nueces yogurt, tossing that because it was too sugar laden to be edible.
I got a bit wet, and also lost the mirror that goes off my helmet. I realized this could be a showstopper, as I wouldn't want to ride at all without that mirror, and mexicans don't use helmets or mirrors... Earlier I'd realized how dependent I was on this small piece of prone-to-fall off plastic, and thought I should do something.... and now it was too late. Maybe in the daylight I could find it.
That night, part of the entertainment was thinking of what kind of play I would make if I were to write a play. I'd given myself this question long ago, but not had an answer, because of my hate of the "hypertrophy of the audience." I think I got to this question by wondering about Andrea Moon who had lived in the same house as my girlfriend in college, and who had been at UT Austin when I was in Austin as well.
This time I came up with something: Get up and leave and never come back is the title and it works like this: The hypertrophic audience faces a stage with one person on the left and an audience on the right. Actually, on the left is another audience facing one person. So that one person has their back to the real audience.
Now, I'm not sure how the other part works. But the people on the stage are drawn from people in that town who never watch t.v. or go to plays (or hardly ever). And somehow they come up and tell their story, why they never watch those things, and then they walk off, and go back to what they do when they're not being a hypertrophic audience.
I haven't figured out how to make anything engaging enough that people would want to stay and watch the whole thing... And I think my mind moved on to other things at that point.
2003-11-03 lunes
Day: 56
Expenses to date: $513 dollars, $1595 pesos
Expenses this day: $77
Income to date: $20 dollars, $400 pesos
Its been a long week. Last monday seems like a century ago. Today. I rose, ate some oats and sardines, shat solidly (yes!) and a lot, and since I didn't feel like biking, decided to change the slow leaking tube in my rear wheel and hope that my mirror might show up. I fixed the flat with a patch even though I had 2 spare tubes since I had the time... Then I realized one of my rear brake lever arms had siezed. I banged on this without effect for a while. I was proactive in better fixing one of my panniers. And packing up, I did find my mirror. I secured this with a piece of dental floss to the arm that holds it.
I came into town on the free highway, and noticed how much worse it was than the cuota. Asked a bit about tarjetas de presentation. and to the internet cafe. Emailed a bit. Added a topic link list to display of content objects and other improvements to site. Futzed with the images from rose for a bit too long. Then started writing this. Jous and his friend Heraldo came by and we talked a long time about carfree and ecovillage things. Now 0358 I'm back to writing this. It rained.
I also looked at Jan-Bathyste's page to read about what he was up to. A much different and more sociable way of travelling, in many ways better than mine. In one of his emails he said Guanajato should not be missed! Maybe someday. He also tells me about how he sleeps: in his guide book he finds hotels between $60 and $120. In guadalajara, he asks at the police station for a place, and finds they have a dormatory. He is more social than I, and probably speaks better spanish, and probably doesn't mind sleeping inside.
I'm writing the section about the bus ride now... and am reminded, how I'm quite sick of biking. I do not want to die on the road, and I don't want to pedal further. In the coming days now that there are temperatures I can deal with (though there is rain also), I will try to bike as little as possible. Move slowly. Maybe I'll recover and continue south. I still have trouble thinking of what I'd do If I go back to the states.
So I didn't finish my log this day for the past week and would probably have to come back. My cost for internet today was $77. As I was leaving, Jous stopped by again. I hadn't eaten since the morning, but didn't feel like eating. and It was getting dark. So I biked out to the cuota again, but this time tried to get further away than by that bridge, and also by a place where the traffic is slower. Ideally jous could tell me where a good place would be, but I don't plan that far ahead. I found a spot, and soon stepped in a nearby fresh cowpie, but there weren't any others. Unfortunately I was a bit close to a place where others stopped, so I was bit apprehensive about being noticed/bothered. But then I do have 12 hours to get some sleep.
About 2800 or so I awoke to piss, and went back to bed. But a mini van drove and stopped on a nearby road, and there, two guys and one, maybe two women (one of whom really liked to squak), hung out for a while, laughing and jabbering, and who knows whatelse. Eventually they left. The moon was out by then and if they looked my way they'd probably have seen a strange bike, but they didn't trouble me other than by making noise.
2003-11-04 martes
Day: 57
Expenses to date: $513 dollars, $1672 pesos
Expenses this day: $48
Income to date: $20 dollars, $400 pesos
I rose and got ready to go. Interestingly guys were biking by on both roads, and did not seem to look my way. I didn't feel like biking, and planned to finish this log update. I walked a bit for a change on the way into town. I had eaten the rest of my oats with a bit of soaking, in the night.
I tried an orange on the way into town, it was bitter. I stopped at a small store to get some peanuts and some bananas ($5). It was 0730, and the internet places wouldn't be open for a while. I parked my bike putting a lock through the spokes where I'd parked it while at the cafe before, and walked into the center of town. There were people selling white bread along the way. I found a better breakfast setup, and bought a tamale, and a corn on the cob and a potato like thing that had been cooked in something like molasses. The tamale had meat and was good ($10). What I really wanted of course was a bean burrito! It was good to be walking, not to be biking. I walked under one of the arcades in the center. and around the corner, and someone stopped to talk in a respectful way. Turns out he was the owner of the cessna airport of the town. Earlier (near the tamale place), one of the asshole mexicans had asked if I wanted to buy some of the whitebread offered by a woman there. Really annoyed, I said in english "if I wanted to buy it I would buy it." Yeah I sure did have a bad attitude, and he patted my back as he left. Asshole. :)
Back on the main street where my bike was I stopped at a place for a taco and tostada. The taco was very small, but good, and the tostada was a tostada. But the price was ($12) ridiculous. I should have avoided the sit-down place. Walking back by the tamale street vendor, I saw a fruit store, and bought 3 oranges of two kinds, a grapefruit. For some reason the woman was saying cinquante, but the price was ($6)... I don't know what the deal was. I sat on a low wall near the big intersection, and watched parents taking their kids to school on bikes without trailers: for one kid, they sit on the cross beam, for two, the other stands on foot pegs on the rear axle. And I ate my fruit.
Then I wanted to check out the bus station, as those places seemed to have good food, and to see where I could take a bus. There were lots of vendors there. I ended up getting a plate of 5 or so (bigger) bean (and other things) tacos for $15. The bus schedules and prices were opaque.
At some point during this morning, I thought about how the trip was over for me. I wanted off the roads and off the bike.
I know myself, and back in the U.S. I knew how I hated to ride, in general, without the adventure cycling maps. I still don't know what I'll do in the U.S. or if I'll go all the way back. But I need to get off my bike and onto the water, or on a trail in the hills. This is going to be a challenge, as in those places I can't just walk around and buy food... But biking throughout latin america is not the way to go for me. I've spent enough time on shoulders next to trucks breathing fumes.... Maybe with more moderation, like Jibi, I might wish to go on.
But as Jibi likes to visit cities, big ones, and I do not, I know the bicycle isn't going to take me to the places I want to be.
So I'm at another cafe that opened earlier than the other. And done with this. There's updating of the carfreeuniverse site to do, but that has been down for a long time. So I'll save this to email and add it to the site later. I might to a bit on the carfreecity.us transition from zope to something else... But I'll be out of here, and I think I can deal with biking. I found a place that sells brown rice and whole-milk no sugar yogurt, so I'll get some and maybe more evil granola.
So long, for now.
Log continues here